Ground support Equipments (GSE) for Aviation
We are proud of the strong relationships we have built with many aviation GSE suppliers around the globe, many of whom have been working with us for years. And we are always looking to expand our supplier base to accommodate our rapidly growing customer base.
Below will be a brief description about some of the main GSE equipments we have successfully been supplied to our customer in Saudi Arabia. And we are always ready for working as true partner with both ends of supply chain to secure excellence in services.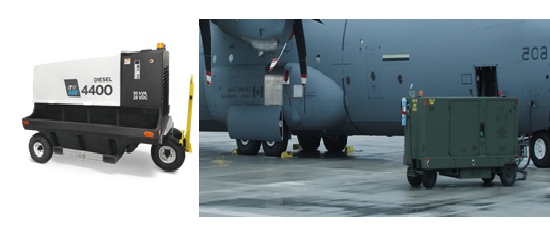 Ground Power Units "GPU" (Civil/Military)
 Those GPUs are widely used in all kind of airports around the world, to provide power to aircraft while parking on ground. There are fixed & mobile models depending on operational requirements and location since those could be used in ramp operation or even in airplane maintenance hangers.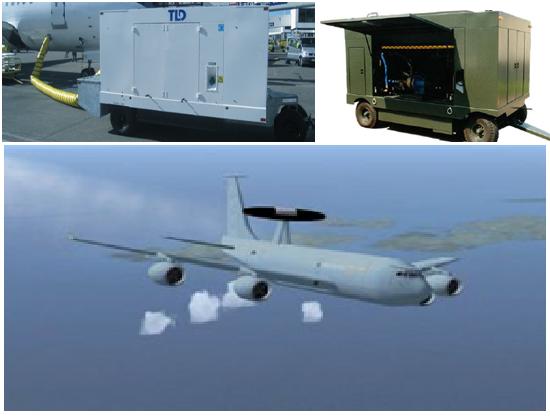 Air Condition Unit (ACU) (Civil/Military)
This is a unit supplying cold / hot Air into a parked aircraft's to sustain comfortable temperatures for passengers in relation to ambient conditions. The output air travels via One/Two hoses connected to the aircraft's under belly.
In addition, there is other type specially designed cooling units called Liquid Coolant Supply (LCS) Cart designed by the well know global manufacturer "TLD" to supply chilled EGW coolant to the aircraft liquid coolant loop for the purpose of removing the electrical heat loads from the avionics liquid cooling subsystem of surveillance aircraft such as AWACS.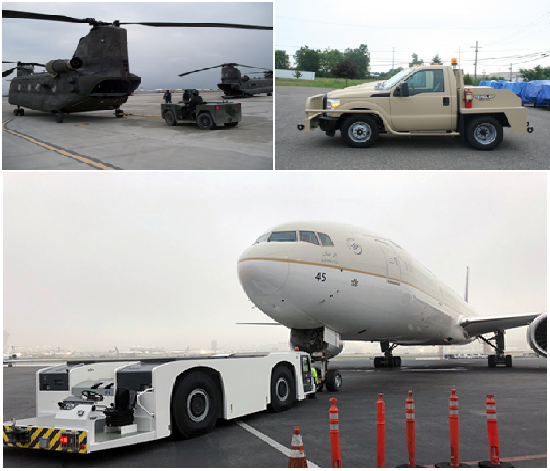 Tow Tugs & Bobtails (Civil/Military)
In this section, we introduce several type of tractor that can be used for towing & pushback operations, including moving/transporting all type of aircraft on ramp area & maintenance hangers.
Aircraft tow tractors are essential to aid pushback and towing operations of light to very heavy aircrafts at airports, aerodromes and heliports. Within this category, there are the towbarless tugs which do not require a towbar for the operation, and the 4WD ones with twobar.
We have also the Bobtail tractors range which are a high speed & long distance cargo most suitable solution & also able to move both ground support equipment, cargo dollies or as an aircraft pushback tractor.

Other GSE
Based on our accumulated experience in the field of airside & land side operations and through our global suppliers, we have the capability to supply any aviation related product/system to our client with quality service & fast supply.
Example of other GSEs:
1. Passenger Stairs  
2. Belt loaders (gasoline, diesel & electric)  
3. Refuelers     
4. Lavatory Service Carts & Vehicles   
5. Potable Water Carts & Vehicles    
6. Catering Trucks   
7. Cargo Loaders   
8. Dolleys    
9. Trolleys    
10. Towbars.
11. Aircraft Lighting
12. Aviation Tool Kits Axle Jacks
13. Baggage & Cargo Handling
14. Bypass & Downlock Pins
15. Cleaning Service
16. Fluid Service
17. Fuel Service
18. Headsets & Intercom Systems
19. Hydraulic Fluid Service
20. Maintenance Equipment 
21. Manuals 
22. Nitrogen Service
23. Oxygen Service
24. Parts, Spares and Supplies
25. Safety Equipment